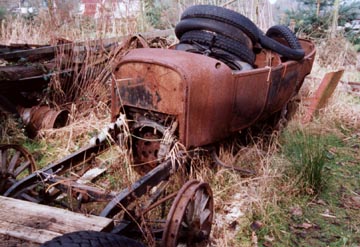 I purchased the frame and running gear of a '23 Dodge touring car from Frank Reichlin (he's selling the body to someone else), but the whole derelict assemblage is still sitting in tall grass outside of his place in Mount Vernon. He sold me a 1926 Dodge engine, gearbox and rear end (not being used in his '26 Dodge rod project), and misc. parts and pieces so that I'll start out with a complete rolling--and maybe even running chassis, but all I have at the moment are some rusty wheels, an old radiator and a box of misc. small parts.

Next month I'll pick up the '23 frame, and next winter, when I've completed other projects that are dominating the foreground of my shop, I'll start active work on the '23 Dodge and start sending progress shots. In the meantime, the photo of Frank's outside-the-barn find is all I have.

Incidentally, I'm involved in other old-Dodge projects. My primary activity is restoration of vintage mahogany runabouts and raceboats, and I'm working on a 1924 Dodge Watercar, a 22-footer built by Horace Dodge Jr's company. It's powered by a '24 Dodge automotive engine, marinized, and will be towed to local shows by the '36 Dodge pickup I'm restoring. The primary projects of the current year, however, involve completion of two new 23-foot mahogany "Gentleman's Raceboats" that are modeled after a 1936 raceboat. They'll be powered by marinized V-12 automotive engines we're building....the first one being a 425-pound, 500-hp aluminum-block special.