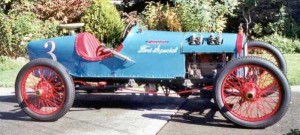 (This item is dedicated to Don Shreve and his contributions to the Northwest Vintage Speedsters Club's web site. Don had written and dated this 1/15/2000, a work in progress entitled The Lawrence O. Hughes Collection)
(December 2013 -Footnote to this is additional information is being developed and will be added as it is confirmed.)
THE LAWRENCE O. HUGHES COLLECTION by Don Shreve
This collection of racing photographs was taken by Lawrence O. Hughes of Beatrice, Nebraska during the late 1920's and early 1930's. It presents a graphic image of the early dirt track race cars and the men that drove them.
Unfortunately, Hughes left no record describing or identifying the cars, the men, or the race tracks that are pictured. It is our hope to document as much information as we can and to try and piece together a story of Hughes racing career and preserve some of the history of the early dirt track racing in Nebraska and surrounding states.
The collection is maintained in the library of the Northwest Vintage Speedsters in Portland, Oregon. This is a club devoted to the preservation, restoration and enjoyment of 1934 and earlier 4 cylinder speedsters and race cars.
Ed Hughes, the son of Lawrence Hughes, happened to mention to NWVS member Gordon Goertzen, that his father had been a race car driver and that he had a box of old newspaper clippings and negatives of racing photos that his father had taken. Ed was not sure what was in the photos as he only had the negatives. He agreed to show the clippings and negatives to Gordon who recognized the need to have the photos developed. Tim Knapp, editor of our newspaper, "The Speedster Spinout" agreed to make prints of the negatives for himself, Ed Hughes and the Club library. The club agreed to pay for the cost of the prints.
The following information is put down in no particular order – just as it pops into my head or is encountered in my notes. I want to first capture the information and later try to organize it. I have not attempted to include that information that is noted in the newspaper clippings, but they are "required reading', to get an idea of Hughes racing career.
In October of 1998, while visiting relatives in the Midwest, my wife and I spent a day in Beatrice researching Hughes. The director of the Beatrice Public Library, Laureen Riedesel, was very helpful in looking for any records on Hughes. She located Beatrice city directories showing the following information:
1925 Polk's Directory – Hughes is listed as a mechanic for DeLuxe Parts
Co. which had an ad indicating that they were a dealer in automotive parts
and motor rebuilding. He boarded at 1222 S 8th Street.
1927 Baldwin Brothers Directory – Hughes is listed as a mechanic for
Beatrice Motor Co. which had an ad in the 1925 directory for Lincoln, Ford,
and Fordson sales and service. he was still residing at 1222 S 8th Street.
1929 Polk's Diectory – Hughes is listed as a mechanic for Willems Master Service which has an ad for "tires, tubes, accessories, car washing, greasing repairing, gasoline, oils, auto electric, Crosley radios and Icy Ball Refrigerators". They are located at 114-120 N. 7th Street. Hughes is still living at 1222 S. 8th Street.
An undated newspaper clipping in the collection indicates that Hughes took over the building at 114 N. 7th Street that had formerly been occupied byWillems Tire and Battery. (They must have dropped their line of Crosley Radios and Icy Ball Refrigerators).
1931 Polk's Directory – Hughes is listed as the proprietor of the Motor Inn
Service which has an ad for General Auto Repairing and Chrysler Service
engaged in car washing, tire repairs, greasing, storage, oils and gas, tires
and auto accessories. The business is located at 114 N. 7th Street and Hughes
is still listed as living at 1222 S. 8th Street.
Lauren Riedesel also recognized the building in the background of photo's 43A and 100 as being the Old Hepperlen Hospital in Beatrice and provided photos of the the hospital. She also located the photo of the horse races at Beatrice in June of 1911. It is assumed that this is the same track that was later used for auto races.
We visited the site of Hughes business at 114 N. 7th Street and found that the structure is still in use as the YMCA Gymnastics & Dance Center. We took a photo of the building to compare with photo 146GG, which shows Hughes in front of his Motor Inn Service.
Adjoining the YMCA Center is The Quality Auto Body at 112 N. 7th Street. We talked to the manager, Roger Howe and his brother Dave and determined that his building and that of the YMCA were constructed in 1916 as a common building and it was apparent from the interior construction that the interior photo's 147-GG, 45-A, 148-GG and 49-A were all taken inside Hughes garage.
The Howe brothers enjoyed looking at early photos of their building and racing in Beatrice. They suggested that we talk to Dell Whitcomb a longtime resident of Beatrice who had raced in the 1940's so we took time to visit him at the Beatrice Manor nursing home.
Dell was familiar with Hughes name but could not recall if he had ever met him or seen him race. He did recognize Roy Boggs who is pictured in photo 44-A. Dell remembers when he was about 5 years old, that Boggs lived across the road from him and that he would go over to Boggs and watch him work on his race car and that Boggs would call he PeeWee.
After he retired from racing, Boggs worked as a flagger at the local auto races. In the late 40's Dell was racing a track roadster, when another car lost control and careened off the track and killed Boggs. Dell's track roadster is presently on display as part of Bill Smith Museum Collection in Lincoln.
We also visited Gage County Historical Society, which has a small museum in Beatrice. Kent Wilson, the Society Administrator was very interested in the photo collection and took a number of copies of them in hopes of having a museum display on local auto racing sometime in the future. He indicated that he had just recently talked to two other men who had visited in search of early racing history. They were Bob Hays of Lincoln, NE and Duane Bohnstedt of Punta Gorda, FL. Wilson gave us a photo copy of 4 newspaper clippings about Model T races being held in Beatrice using local drivers. It appears that the races were held in 1939. Roy Boggs promoted the races. Barney Bohnstedt was pictured as the winner of many of the races. It is assumed that Barney may be the father of Duane.
Since Hughes did not leave any identification of the people or places depicted in the Collection, it has been left to the viewers imagination to get an overall picture of how racing might have been in that era. If you need a clearer picture of "the way it was" it is recommended that you read John Gerber's autobiography in "Outlaw Sprint Car Racer."
John Gerber was a contemporary of Hughes and there are several mentions made of Hughes in the book as follows:
Page 72 – At Cedar Rapids on July 4th 1927, "In the feature event, FrankBrisko lost control and L. O. Hughes hit him broadside, putting both throughthe fence."
Page 78 – In the point standing for the Cedar Rapids 1927 Victory Trophy,
Johnny Gerber is listed first in a Whippet Special with 369 points. L.O.
Hughes is listed as 15th in a Rajo with 140 points.
Page 117 – The results at Cedar Rapids, May 30, 1930 show Hughes as the winner the 4 lap consolation race.
Gerber's book also describes the life of an itinerant race car driver-camping out in the infield in tents, buying a bail of hay to use for a mattress, standing cars on end to repair them, race car transporters plus many other aspects of racing. Many of Gerber's descriptions of the drivers life and the race circuits are vividly portrayed in Hughes photographs and it makes it easier to imagine "the way it was" in early dirt track racing.
The limited amount of known information, plus some assumptions and speculations on the individual photographs in the collection are listed below. The photo numbers are not listed in numerical order but in the order they appear in the NWVS album. Hughes cars are easily recognized in the photos by their numbers. The Model T Rajo race car is numbered 101. He converted to a Model A, which is pictured with number 101-A.
49-A – Interior of Motor Inn Service at 114 N. 7th Street
48-A – This appears to be a copy of a print rather than a negative as are the balance of the collection. The garage doors are very similar to the Indy Gasoline Alley doors, one of which is in the Bill Smith Collection in Lincoln. Could Hughes have gone to Indy and taken this picture there? could the "WS" on the grill be for Wilbur Shaw? Can anyone verify if these could be Indy doors or one of Shaw's cars?
43A, 100 & 53A – This is apparently Hughes in possibly his first car. He may have co-owned it with the "G' in G&H Special. The building in the background is the Hepperlen/United Brethren Hospital at 1700 S. 9th Street in Beatrice.
44A – Roy Boggs in his Boggs Special
119- Believed to be the track at Beatrice as the cross bracing of the roof uprights appear to be the same as those pictured on page 55 of OSCR (Outlaw Sprint Car Racer)
53B & enlargement 52B2 – Car with number K4 would be a Leo Krasek car.
41B & enlargement 41B2- Galivan head with Winfield carb at Ord, Nebraska
46B & enlargement 46B2 – Identified on p86 & 89 of OSCR as Joe Kinsey's DO Fronty 16 valve.
41C – Identified in OSCR p94 as owned by Chas E Bane's DO Fronty which he drove through a fence and never drove again. With Hughes number 101 on the car, it is assumed that Hughes was driving it for Bane.
51A & 53C – John Gerber in his bob rail #15 which is described in detail in OSCR.
130 – Ord, Nebraska per p129 of OSCR.
44C – First car in line is a Boggs Special. It is an earlier car than his #37 pictured in 44A.
48B & enlacement 48B2 – Ord, Nebraska per OSCR p 129.
49B & enlargement 49B2 – were taken at almost the same time as 48B at Ord, Nebraska.
132 & enlargement 133 – are of same starting line up as 48B & 49B
134 – same 2 cars as in 132 so it must be at Ord.
135 – Fencing appears to be same as in Ord photos so this is probably also at Ord.
142 – Roy Boggs with his Boggs Special. This track location should be easy for someone to identify from the tower??
45A, 148GG & 147GG – Interior of Hughes garage at 147 Seventh St. in Beatrice.
146G – A commercial photo of Hughes and his Chrysler roadster outside the Motor Inn. When we visited this building in October 1998, the structure is still virtually intact and is being used as the YMCA Gymnastics and Dance Center.
49 C – Erv Kesting Spl.
55B – John Bagley in Fronty Ford Frost Battery Special per OSCR p60.
50B, 50B2 – Lou Fenno per OSCR p88.
47A – Kruck Special, also pictured in OSCR p87.