FOR SALE
 This will be Speedsters for Sale, will run Ad for two months and then removed unless there is a written request to extend.  The NWVS does not in any way have an monetary interest or verify the authenticity of such ads.  Our sole purpose for providing this new feature is the promotion of this very unique hobby and providing a method to keep these cars in use and not going to waste.  Member's Ads will first appear in SPINOUT and then appear here.  Non member's Ads, from the West Coast area, will only appear here and for the stated time frame.  Photos will be included, when provided.  This feature was approved by members at the June 18, 2014 Business meeting.
 DUE to Malware problems mailing addresses will not be provided, nor email or telephone numbers in usual format.  Contact Web Master for mailing addresses.
                                     3/30/2017
FOR SALE – 1925 MODEL T SPEEDSTER
Boattail style with wood body, BB Rajo O/H valve head, Winfield S carburetor, drilled A crank, A rods, oil pump, oil pan sump, large drum Ruckstell, Rocky Mountain brakes, powder-coated wire wheels, VW steering gear and distributor, 12 volt alternator, safety hubs, car cover.  Included: several boxes of new and used T parts and tools including a '25 block with crank, cam, rods and pistons; a '26 block; a spare starter; a new Dan McEachern aluminum cam gear; 8 new pan gaskets; a new Rajo head gasket and a Datsun distributor that supposedly can be adapted to fire 8 plugs in the Rajo.  $9500.00.
View additional pictures at NWVS.org and link to Event Photos>Site Pages>a Speedster Photo Gallery.  Click on car # 107 under Alphabetic Index.  Contact Jim at sly.bacon at comcast dot net phone: 425 210 3531.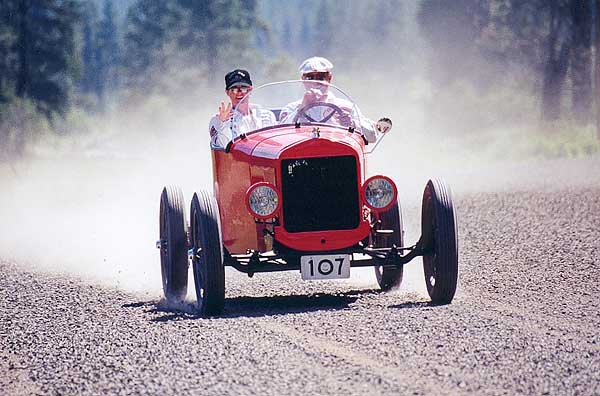 For Sale   – – SOLD!  As of 3/08/2016
One complete Rajo T 35 cylinder head. Includes stock intake/exhaust manifold, rockers, pushrods, lifters, and valve cover.
The combustion chamber is approx 1 1/4″ deep so the head has been only lightly milled if at all.
I've attached several pictures.
You will be able to see the white patch areas at the top front and top rear of the head. This is the way I got the head which was on a complete engine assembly. I'm setting the engine up with a flathead so this head is excess to my needs.
The valves are the original style. I pulled one and found that the seats, guides and valve surface look ready to go. The head has seals for the valve stems which seems like a good idea for how deep the valve spring pocket is.
The rocker shaft has been drilled for oil pressure.
The head is fine, the valve cover just doesn't fit right. The patch material was just there to build up a surface to match the shape of the cover. I've chipped it off and the head is not cracked or damaged.
Price is $3,500 or best offer. I'll advertise it on the Model T Forum as well but prefer not to ship if it can go to someone fairly nearby or I may be able to get it to Bakersfield.
Walt Berdan (Web Master will give you my contact info per Web Site guidelines)