Car Description & Special Features A 1920 Ford Model T Speedster featuring a custom fabricated "all steel body" built by the Frank'n Art Speedster Factory in Mt. Vernon, WA. The compound contour rear section is made up from two 1941 International hood fronts. A "one-ton" version is on top while a "three-ton front is below. They are mated in the middle by new sheet metal. It was painted at Murray Motor Car Restorations in Monroe, WA with "Kenworth Truck" fleet blue and black trim. The '26-27 Model T 21" wire wheels are powder coated "Ford" vermilion (Red), chassis is black.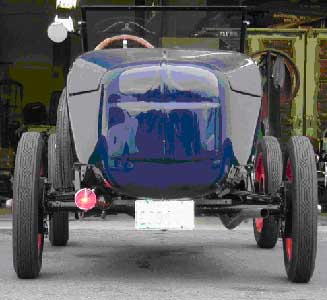 Two 1941 International Hood fronts form the aft section of the body. The deck lid was hand fabricated to fit.
This car was originally campaigned for 25 years in California, and Northwest Speedster events by various owners as the "Spirit of Cerro Gordo" translated "Spirit of Oily Hill."

It underwent a complete "Oprah like" body makeover in March 2000 when purchased by the current owner.

It was finished in May 2001 in time for the "Desert in Bloom" 200-miler with a virtually unchanged chassis save for an added Mazda RX-7 steering box and fresh black paint.

It finished the run with no mechanical problems, but in the back of the pack.

It finished 5th overall later in 2001, at the Labor Day weekend 200-miler "Pump 'n Speedster" run held in Kent, WA.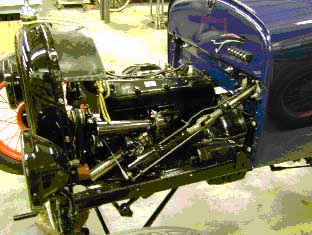 A Mazda RX-7 steering box fits snugly into the engine bay!
The cooling system features a "custom-built" modern core radiator using a two-inch "chopped" late '20's era Whippet shell. A chrome "re-pop" moto-meter and dog bone graces the Model T filler neck adapted to the top tank. The hood and cowl wrap around a '26-27 Model T firewall and fuel tank located 1' aft of the normal position on the frame. The fuel tank has a machined four-inch tall filler neck to accommodate the cowls rake upward from stock height, and is topped by a chromed "wing" gas cap from the original car.

The fuel cap was kept from the original cars fuel tank, and is now mated to a '26-27 fuel tank that is 4" below the cap location on the cowl
A "Z" aluminum hi-compression flat head tops the engine, while breathing is accomplished via Model "C" intake and exhaust manifolds. A "BIG" Tillotson JR-5 tractor carburetor, using foot feed input, supplies all fuel delivery. The exhaust can be "cutout" or routed through the muffler.
The short block has Model T oversize aluminum pistons that are mated to a '26-27 Model "T" crankshaft, big stainless valves, ported and Model "A" camshaft. A stock "big" scupper inside oil line, and one outside oil line off the magneto plug atop the transmission cover, feed the 4-dipper pan with copious amounts of fresh oil. The flywheel is lightened and balanced. The transmission is stock Model "T" 2-speed planetary using hard bonded band linings.
Electrics start at the 6-volt battery.

There is a new stock '26-27 Model "T" wiring harness installed, tied to a "re-pop" distributor with adapted VW head.

Head and taillights are stock 6-volt 20's era Model "T" with re-silvered reflectors and an accessory "STOP" light.

The starter is stock Model "T", while a 6-volt adapted Mitsubishi alternator handles the charging duties.

A '26-27 electric horn is mounted in the stock position on the side of block water inlet.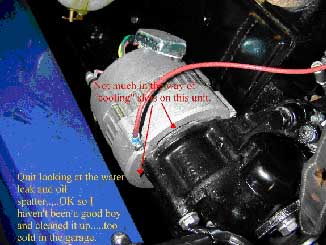 The alternator is a Mitsubishi unit that has been rebuilt once. Will put on a stock unit later!!
The front end has a 3" dropped front axle while all other suspension components are stock Model "T" except for the drag link that was adapted for the "new" steering box.

The rear end is a Ruckstell 2-speed with 3:1 final drive.

The rear is lowered about 1" via a "torch" dropped bottom spring.

Rear "Rocky Mountain" outside brakes provides more than adequate stopping power except when backing up or in the wet.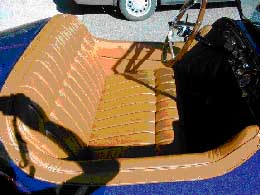 Wide and comfortable seating with easy to read gauges and perfect column placement.
Cedardale Upholstery in Mt. Vernon, WA finished off the 42" wide cockpit using luxurious leather-clad seat bottom/back foam filled cushions and armrests.

Side panels and trim are similarly colored vinyl with storage pockets.

Black carpet covers the wood floorboards.

The dash is '26-27 Model "T" open car with a Stewart 160 speedometer, clock, starter switch, and '26-27 switch panel and ammeter all laid out for easy visibility from the drivers position.

The steering column is stock Model "T", but lowered two-inches below the dash, with an accessory aluminum spider and mahogany clear-coated wheel.

A large black foam and carpet lined trunk handles storage duties flawlessly.

It is here that the battery is accessed and the mandatory fire extinguisher is found.

The safety glass equipped windshield is a chopped and narrowed early 30's Chevy coupe frame attached to mid 20's era Model "T" stanchions.

A black tonneau covers the works to keep out the elements when inclement weather arrives.
Helpful friends that made this project possible:
Frank Reichlin Master Speedster Body Builder and Napkin Designer.
Art Reichlin Machinist, welder, bender, grinder, and encouragement.
Paul Reichlin Upholstery Wizard-A most excellent and comfortable ride.
Paul Murray He can make S--- Fit and gives good advice.
Al Murray MMC owner, body prep/paint, dash arranger, speedometer.
Donovan Murray Final Assembly help and constant encouragement.
Rudy Saarela Vintage Authentic Reproductions-New Parts
Stan Bender Old Parts.
Rae'Cing The reason why we did this.
Mad Max Brute force and ugliness.
BECU EZ write loan
Favorite Event(s) : Memorial and Labor Day Speedster Runs
Other Information